Elite Clinics : About Us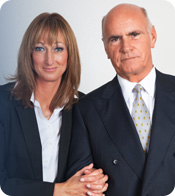 Martin and Marion Shirran opened the Elite Clinic in Fuengirola, Spain in 2004. They continue to treat a wide range of client problems ranging from Substance Abuse to numerous Psychological issues. Having completed the required training they now also treat Dementia. During 2007 they started the development process of their revolutionary weight-loss approach, 'The Gastric Mind Band Therapy®', in which Cognitive Behaviour Therapy is underpinned by Hypnosis and Time Perspective Therapy. Over recent years they have been featured in a number of television programs on both sides of the Atlantic and been featured in a number of newspaper and magazine articles. The phenomenal media interest in their work resulted in them licensing a number of clinics around the world to offer their trademarked brand of therapy.
During 2009 Martin and Marion began the research and development phase of their Pause Button Therapy®, which went on to become the foundation of TactileCBT®. In 2012, they signed an international multi-title publishing contract with Hay House; their first two books, entitled 'The Gastric Mind Band: The Proven, Pain Free Alternative to Weight Loss Surgery' and 'Pause Button Therapy', were published internationally in early 2013.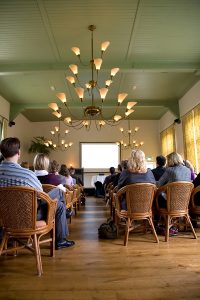 At the 1st International Conference on Time Perspective, at Coimbra University in Portugal, a paper written by Dr Theano Kavanah and Martin and Marion Shirran containing research evidence demonstrating the efficacy of Pause Button Therapy for weight loss was presented. Professor Philip Zimbardo, Professor Emeritus at Stanford University San Francisco and co-author of 'The Time Paradox' and 'The Time Cure', expressed a particular interest in their work and offered to write the forward for the second edition of their book, 'Pause Button Therapy', published in 2013.
Martin and Marion along with Dr Sarah Clarke were invited to Warsaw University to present a symposium regarding their revolutionary Weight Loss Treatment, Gastric Mind Band® at the 2nd International Conference on Time Perspective with professor Philip Zimbardo.
Over recent years Martin and Marion have divided their time between treating a small number of private clients and providing training and accreditation for therapists from all over the world. They are currently working with Dr. Sarah Clarke on a range of training modules exclusively dedicated to Tactile Cognitive Behaviour Therapy.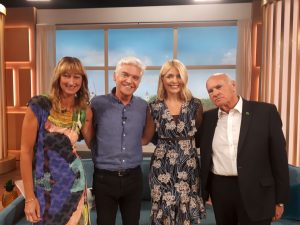 Martin and Marion were invited to join Holly Willoughby and Philip Schofield on the This morning TV show recently.
Martin and Marion both hold Diplomas in Clinical Hypnotherapy, and are certified and registered with the American Board and British Institute of Hypnotherapy. They are both registered in the UK with the Complementary and Natural Healthcare Council. During 2005 Martin undertook additional training, gaining a primary certificate in R.E.B.T. (a form of Cognitive Behaviour Therapy) at Birmingham University, School of Psychology. He is also a member of the United Kingdom Society for Behavioural Medicine and the International Hypnosis Research Institute. In 2018 Martin attended the Post Graduate Training in London with Dr. Nightingale around the proven treatment of Dementia using Hypnotherapy.