Case Studies : Gastric Mind Band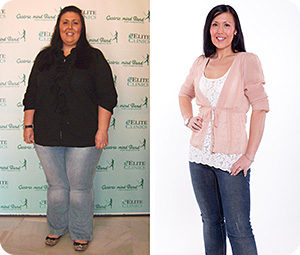 Sarah lost half her body weight after having the Gastric Mind Band Therapy.
When Sarah visited the Elite Clinic in Spain she weighed in excess of 20 stone. Her BMI was 46.7 and she was rated as morbidly obese. Sarah had high blood pressure and was on medication for asthma, she was constantly tired and sometimes struggled just to walk. She managed to squeeze herself into size 22 clothes.
After completing the Gastric mind band treatment Sarah's weight has dropped to 9 stone 12lbs. A weight loss of 144 lbs. Her BMI has dropped to 23.8, a level which is rated as healthy and normal, her blood pressure also reduced to a normal level, and the asthma is virtually nonexistent, Sarah achieved a lifelong ambition this year when she completed her first half marathon.
Her weight at the commencement of the treatment was in excess of 20 stone, her initial goal was to get down to 14½ stone, she could not contemplate ever being under the 14 stone mark, as she had been over 15 stone all through her teenage years.
However after the GMB treatment when she did get down to her goal weight of 14 stone she was finding her new way of eating and her positive relationship with food so easy and natural that she carried on and now loves jumping on the scales and seeing the 9 stone mark, it has exceeded all her dreams, and opened up a whole new life.
Sarah lives in Mid Glamorgan and works in the travel industry at Cardiff airport, she has been married to her husband Lee for eleven years and they have two children.
She read about the Gastric mind Band and the Elite clinic in a UK magazine and after reading the info on the web site she decided to book and fly over to Spain, "certainly one of the better decisions in my life" she says.
Previously she had tried just about every diet that existed and been members of all the so called slimming clubs, she did sometimes manage to lose a little weight when following the other diets, but then put it all back on again.
Sarah said "the GMB treatment was different from the start, I never saw it as a diet, I returned home after having the treatment with a totally different relationship with food, I just ate when I was hungry and not for all the other reasons that I had in the past, the Gastric mind Band also ensured that I automatically felt full on much smaller portions."