Elite Clinics : Books and Audio Products

Martin and Marion's books are distributed worldwide by Amazon, available in Kindle, Paperback or in Audible formats with all the normal payment options and delivery guarantees. Others products can be purchased on line via our secure purchase page using either Pay-Pal or credit card, physical products will be dispatched to you direct from the clinic, our selection of MP3 files are available for purchase and immediate download.
---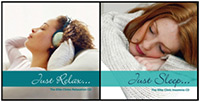 Just Relax and Just Sleep, audios as described above can be purchased individually as MP3 downloads at just £4.95 each
Readers should be aware that the books and CD as detailed above are not intended to offer an alternative to visiting a GMB accredited therapist and undergoing the treatment on a one to one basis.