Elite Clinics : Therapies Provided, CBT, NLP Psychotherapy
Elite Clinics : Therapies Provided, CBT, NLP Psychotherapy
The treatment methods provided to clients of the Elite Clinic, regardless of them being face to face or online are unique. We incorporate into the sessions, as and where appropriate, a combination of accepted approaches, including Cognitive Behaviour Therapy, Hypnotherapy, Neuro Linguistic Programming and a range of other Mindfulness focused approaches. We may also include our own TactileCBT® or Pause Button Therapy®, or after meeting the client, we may decide, and we often do, to select the best elements of a number of the therapies and successfully use one therapy to underpin the other. Martin and Marion Shirran, developed PBT, along with TCBT, both described as 'elegant' upgrades to the traditional CBT offerings. They are the authors of the book dedicated to the subject, published world wide by Hay House. The foreword to the book was written by professor Philip Zimbardo of Stanford University in San Fransisco. The Shirran's continue to train and accredit a small number of therapists each year from clinics around world in their treatment approaches involving PBT.
---
Residential Rehab Treatment in your own Home!!!!
The Virtual Residential Treatment provided by the clinic has been completed by both celebrities and members of the public. A quick search on Google will confirm that a course of Residential Rehab treatment can cost in excess of £24,000 per month, with no guarantee of success, its a very large investment that may not produce the desired result. At the Elite Clinic we offer what we have termed 'Non Residential Rehab". The treatment provides multiple daily sessions, (a minimum of two sessions per day, more if required) delivered by Skype or Zoom. A typical one month package will consist of around 40 on line CBT sessions, during the first week we will also include at least one extensive interview with a (SO) Significant Other person in the clients life, this is to assist us with the establishing of a personalised treatment protocol for each client. The SO session also provides an in-depth overview of the clients life and predicament from a completely different prospective. The exact format of the treatment package will vary for each client, some requiring sessions in the evening, others befitting from 'Clusters' of sessions scheduled over the weekend, when they feel most vulnerable. Please contact the clinic to allow us to arrange a non obligatory introductory telephone call with you. With regard to costs, these can of course vary owing to a number of factors, please contact the clinic for more information.
Cognitive Behaviour Therapy, (CBT) is probably the therapy method that most people are aware of. Its use has become the treatment of choice by many within the medical profession; in fact now virtually every NHS hospital in the UK has their own in-house facility, as do some GP practices. It has been used successfully to treat everything from Panic Attacks to Fear of Flying, from Depression to Phobias, and is particularly recommended for helping people overcome addictions.
Hypnotherapy is widely used in a variety of fields including medicine and childbirth, dentistry, education, law enforcement and professional sports, and the beneficial use of hypnosis in the treatment of both nicotine addiction and obesity is well documented. A survey in The Times Newspaper quoted hypnotherapy as being one of the most successful methods available in the treatment of smoking cessation. Clinical Hypnotherapy as provided at the Elite Clinic has proven to be highly effective in treating a wide range of problems.Recent research studies have also proven the effectiveness of Hypnotherapy in treating Dementia, after completing the required training the Elite Clinic are pleased to be providing this new exciting treatment protocol in Spain.
---
Neuro Linguistic Programming (NLP).
People who come to us for therapy typically have pain in their lives and all therapy methods are confronted with the problem of reacting adequately to their needs. NLP offers a sometimes-exciting method of helping people to undertake often-dramatic change in their lives, and change is often all the client needs. That is to be able to change from a sad outlook on life to a happy one, from a vision of doom and gloom to a future of excitement and discovery. NLP has such wide interpretations, with little restrictive format, that it is often of value to a very wide variety of clients.
Mindfulness Focused therapies (MBCT) is the name we give to a group of therapies which incorporate CBT, but also incorporate an increased level of awareness, mindfulness. Wikipedia states: "The goal of MBCT is to interrupt automatic processes and teach participants to focus less on reacting to incoming stimuli, and instead accepting and observing them without judgment. This mindfulness practice allows the participant to notice when automatic processes are occurring and to alter their reaction to be more of a reflection. Research supports the effects of MBCT."
---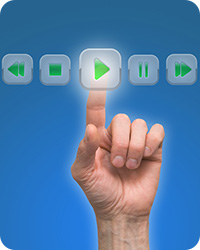 TactileCBT® is a simple, but highly effective, therapeutic approach, which can be used to address a wide range of maladaptive/dysfunctional behaviours and/or thinking patterns. The approach can be used with almost any client base (including children) and, importantly, it provides the client with a simple method through which they can understand and take control of their problems, and live a more fulfilling and positive life. TactileCBT® is the subject of an International training program for therapists that was launched in 2013.
Pause Button Therapy® (PBT), is an innovative new therapy technique that allows people to do exactly what it says. Empowering them to break out of the layers of negative habits and unconscious responses. PBT is based on an incredibly simple idea, but can be used for a whole host of issues. It provides additional thinking time, allowing a person to consider the potential consequences of their action and adjust their behaviour accordingly.
Pause Button Therapy® is the subject of the book written by Martin and Marion Shirran and published Internationally by Hay House. The second edition includes a foreword by Professor Philip Zimbardo, of Stanford University, San Francisco. You can read more about both Pause Button Therapy and TactileCBT by visiting the dedicated web site at .wwwpausebuttontherapy.com
---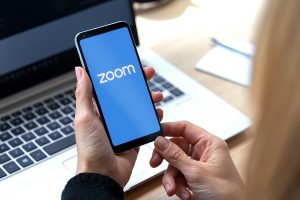 As you will read on other pages of this site, at Elite we have been helping people overcome a number of different problems for many years. Whist we continue to offer non-residential treatment at our clinic in Spain, over the years we have invested a considerable amount of both time and finances creating a cutting edge and very successful distance treatment programme, using Medias such as Zoom, Face Time and Skype. Whilst these sessions can be taken individually, we also offer a full 'Virtual Rehab' package, providing multiple sessions each day, along with 24/7 support, in effect mirroring the Rehab experience, but from the comfort and security of your own home, and of course at a fraction of the normal costs. You can read more here.
---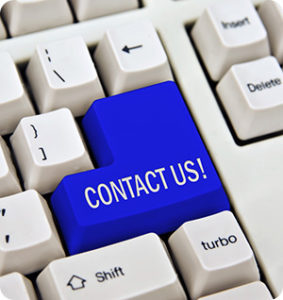 Contact US. Should you have any additional questions regarding the treatment offered by the clinic do feel free to drop us an email, we will be pleased if requested to call you back for an information conversation -
Tel: 0034 951 311 591. Contact us by email here
---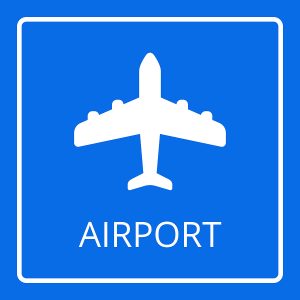 National and International Home Visits - Since the first day of opening the clinic, Martin and Marion have offered their unique range of treatment packages to clients around the world in their own homes, for details, prices please feel free to contact the clinic direct by phone or email.
Tel: 0034 951 311 591. Contact us by email
---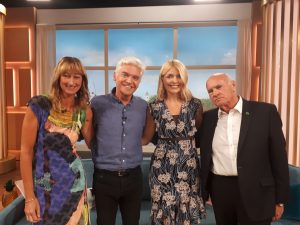 Over the last fifteen years, Martin and Marion Shirran, the joint founders of the Elite Clinic have been featured in just about every UK National Newspaper, and in hundreds of magazines, including titles such as Vogue, Marie Claire and Psychologies Magazine. They were flown to New York where their work was the subject of a news special on the Good Morning America TV show. They have also appeared in numerous UK shows. Last year they were interviewed by Holly Willoughby and Philip Schofield on the This Morning TV Show. You can read more in the News Section of this site.
---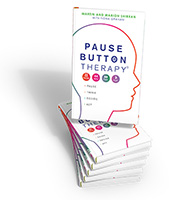 During 2012, Martin and Marion signed a Multi Title International publishing contract with the renown Hay House Publishing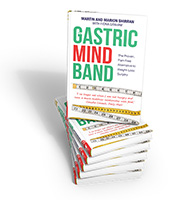 House in New York. There first two , best selling books are available globally from Amazon. The forward of the Pause Button Therapy book was written by Professor Philip Zimbardo of Stanford University in Dan Fransisco. The books were also endorsed by Professor Windy Dryden of Goldsmiths University London. Visit the Pause Button Therapy Dedicated Web Site
---